The Historic Ordination of William R. Johnson
The LGBT Religious Archives Network presents this online archival exhibition on the ordination of William R. Johnson, who was the first openly gay person to be ordained in a mainline Christian tradition. This exhibit focuses on original materials that portray this historic event. We will keep adding to this exhibition as more artifacts or commentaries are contributed.
CONTRIBUTE an artifact, memory or reflection to this exhibition.
1970
November 11
Bill Johnson comes out during a seminary forum on homosexuality.
1971
February
Bill is called to serve in a new house church ministry.
Bill's ordination is supported by San Carlos Community Church.
March
Judicatory's Church and Ministry Committee turns down ordination.
Deacons at San Carlos Church request an Ecclesiastical Council.
Bill speaks in worship at MCC Los Angeles. The sermon and his ordination paper are published in the November 1971 issue of In Unity.
1972
April 30
Ecclesiastical Council approves ordination by 62-34 vote.
June 25
Bill Johnson ordained.
The press covers the event.
1973
Ordination sparks analysis and outreach.
2012
40th Anniversary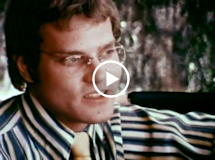 See the 18-minute film
A Position of Faith
(1973) about Johnson's ordination.
William R. Johnson entered the Pacific School of Religion in September, 1968. A clean-cut, devout Texan who had completed pre-theological studies at Elmhurst College, Johnson appeared to be on the fast track to ministry. He immersed himself in seminary studies and work as youth minister at San Carlos Community Church, repressing his homosexuality of which he had long been aware. There was little affirmation for same-gender-loving in churches and seminaries in those days.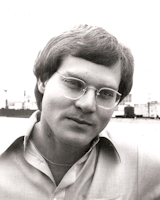 Bill Johnson in 1972
When Bill returned for his final seminary year in September, 1970, he saw notice of a gay seminarians group being convened by Jim Sorrells, professor at Starr King School for the Ministry, and others. Bill recalls some surprise in the room as he walked into the first meeting. The group wanted to open dialogue on homosexuality in the Berkeley seminaries so a forum was planned for November 11, 1970. Four hundred people showed up. Although not intending to be visible there, Bill found himself responding angrily to a speaker's comments dismissing thequalifications of homosexuals to serve in parish ministry, which he had already done with distinction. He rose and came out to the assembled seminary students and faculty, church leaders from throughout the Bay Area, and LGBT community members.
Johnson continued his studies toward his goal to be a parish minister. Another gay seminarian, Nick Benton, also was on an ordination track in the Golden Gate Association (GGA) of the United Church of Christ. However, Benton withdrew his candidacy. In February, 1971, Bill received a call to serve with a new house church ministry designed by the Rev. John M. Rogers, Association Conference Minister of the Southern California Conference UCC. The call meant Bill could formally apply to be ordained.
Bill received unanimous support from the deacons at Community Church in San Carlos to sponsor his request for ordination by the GGA. In March he met with the judicatory's Church and Ministry Committee which turned down his request by a 5-4 vote. The deacons at the San Carlos Church reaffirmed their support and, as was their right, requested that the Association convene an Ecclesiastical Council comprised all clergy and lay delegates from each congregation so "the people" could decide whether or not to ordain Bill for ministry. With Bill's consent, the GGA agreed to convene this council after allowing a year for education.
A large turnout for the ecclesiastical council on April 30, 1972, heard Bill's ordination paper and engaged in vigorous questioning and debate. Finally, after four hours, the delegates voted to approve his ordination by a 62 to 34 vote. William R. Johnson was ordained at the San Carlos Community Church on June 25, 1972.

How You Can Contribute to This Interactive Exhibition
Persons who witnessed—from nearby or far away—or were affected in some way by the ordination of William R. Johnson are invited to contribute to this exhibition. You may provide an artifact or record from the times or may offer your memory or reflection.
Artifacts
You can see a number of artifacts from William R. Johnson's ordination on this page. Other artifacts that could be sent in include photographs, news articles or commentaries, documents, newsletters, or correspondence related to the events leading up to or following the Johnson ordination.
An artifact to be submitted should be scanned at 300 dpi or higher into a graphics file (tif, jpg or png) and emailed to mbowman@lgbtran.org.
Or you may ship the paper artifact to Mark Bowman, 5352 N. Kenmore Avenue, #3, Chicago, IL 60640 with a return address. It will be scanned and returned to you.
Memory or Reflection
If you participated in any of the events leading up to or following the Johnson ordination, you are invited to share your memories. Or you may have been significantly affected by reading or hearing about these events. You are invited to share your recollections or observations either in spoken or written word.
If you choose to write a memory or reflection, you can send that to mbowman@lgbtran.org.
If you would speak your memory or reflection, you can do that by phone. You will want to write a statement or at least an outline beforehand and practice it several times before making the recording so that you can be as concise and clear as possible. Contact mbowman@lgbtran.org to set up a date and time for the call.
___________________________________
All submissions to this exhibition will be reviewed before posting.
Direct any questions about whether or how to contribute to this exhibition to Mark Bowman at mbowman@lgbtran.org.